Acea has considered responsible development a part of its way of doing business for more than 20 years. The simultaneous preparation of the Business Plan and the Sustainability Plan, both approved by the Board of Directors, now gives sustainability an even more central role within the concept of future as seen by the Group for itself and for the community.
Growth is only possible if shared. This is true above all for an organisation such as Acea, which is required to manage public utility services in sectors that affect the everyday life of people and are essential for the wellbeing of the community and development of the territory.
Increasingly inherent in the Acea Group's business culture is the profound conviction that the road to growth and success in business must match the responsible management of impacts deriving from its activities on the natural environment and on the communities, within a framework of ongoing dialogue with the territory, the institutions and the people.
For some time now, Acea has been convinced that the road to growth must not deviate from the responsible management of its impact on the environment and on the communities
Business Plan and Sustainability Plan: their meeting creates the Acea of the future
During 2017, the Business Plan and Sustainability Plan for the period 2018-2022 were prepared simultaneously for the first time.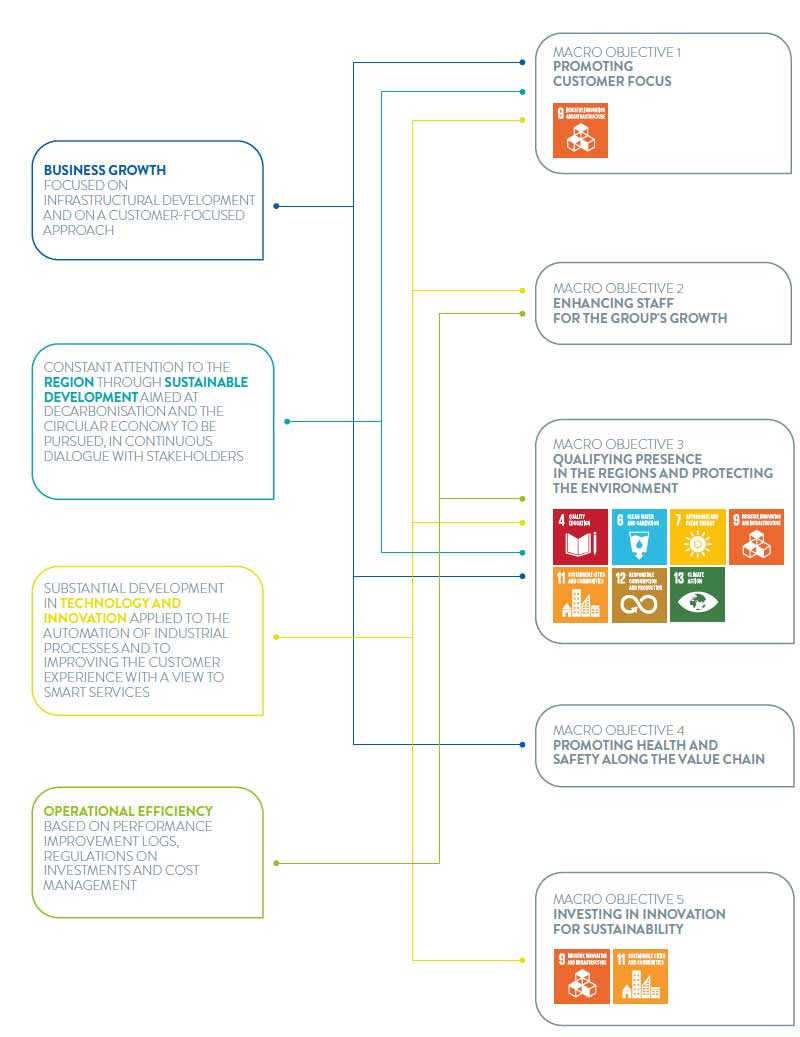 A choice which goes beyond the formal meaning and, in fact, designs and indicates the Group's next steps, giving substance to a growth strategy which – whilst paying attention to profitability – shares, integrates and puts into practice principles of responsible and sustainable development.
A guarantee for shareholders, customers, collaborators, territory and environment
The decision to link business development – and therefore a part of investments – with important environmental and social issues will allow Acea to strengthen its business and make it more sustainable in the long term.
The industrial and sustainable growth strategy involves everyone, because it considers each stakeholder.
A company that is healthy and capable of value creation is a company that is capable of innovating, creating employment stability, disseminating safety culture, generating positive effects on the supplier industry, optimising resource utilisation – including natural resources, planning actions for mitigation and adaptation to climate change, taking advantage of circular economy opportunities, enhancing infrastructure resilience capacity to pave the way for projects and initiatives that can improve the life of the communities and territories. Acea's responsible growth strategy is characterised by complementarity between industrial objectives and sustainability objectives.
The ability to create and share the value of a project that involves everyone is measured according to a prospect of economic growth and sustainability, as well as financial, environmental and social results.