According to the business model, the Parent coordinates and supports the operating companies, which are organised in industrial areas, overseeing the various businesses. A structure conceived with a view to optimising competencies and enhancing operating efficiency.
We never stand still. We are in constant contact with the communities and territories where we operate.
Acea's business model is designed based on the skills available within the Group: each segment operates maximising respective professional qualities.
A task we carry out by investing year after year in technology, integrating into the processes more and more sophisticated surveying tools and increasingly speedier means of communication. However, technology would not be enough, unless accompanied by an organisational structure that allows monitoring of the various business segments: Energy (production and distribution infrastructures; trading and sales), Water (integrated water services), Environment (circular economy).
The Acea business model
Strategic planning and business policies take account of changes in the domestic and international situation, the economic and sustainability scenario, technological evolution, market prospects, legislative and regulatory developments, risk and opportunity analyses. The Parent Company's role is to govern, guide and control. Activities are organised in Corporate Functions and Industrial Areas and each of these incorporates numerous operating companies. The main business segments managed represent the Group's operations in the territory and its interactions with the environmental and social framework.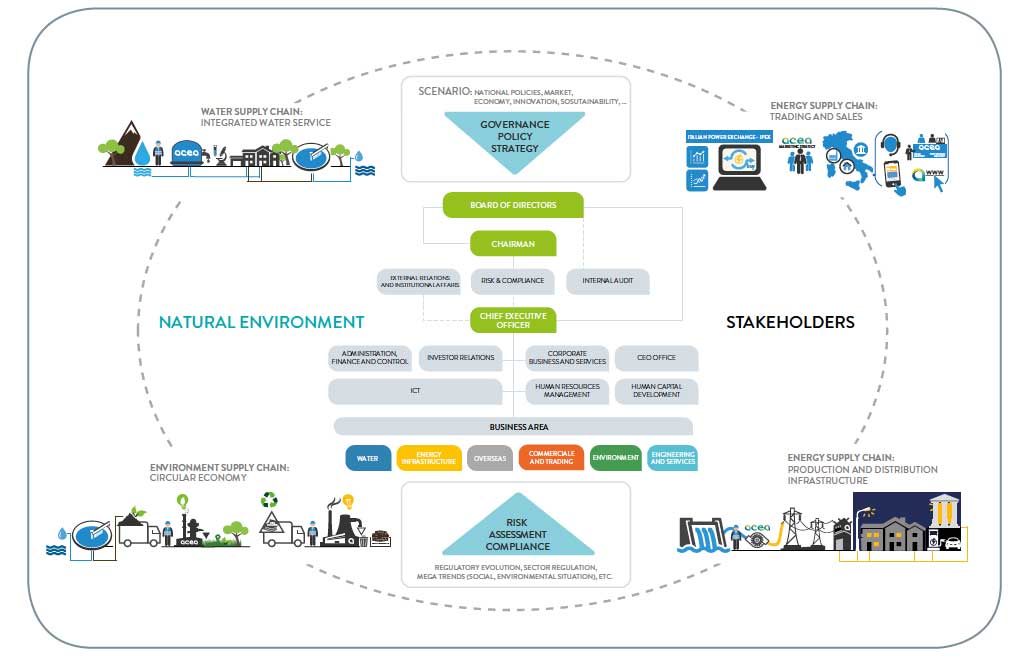 Acea's business segments
The Acea Group is primarily active in 4 business segments: integrated water services ; the production and distribution of electricity (including public lighting); the sale of energy and gas; waste recovery.
Within these segments Acea operates via industrial companies located in central Italy, in particular along the Tyrrhenian ridge, of which it is a shareholder and in which it performs the role of reference industrial entity.
WATER SEGMENT: INTEGRATED WATER SERVICES
The water business segment commences with the resource collection phase: the water required by the network serving the communities is withdrawn from the springs and aquifers located within the territory. The quality of the water resource is checked and guaranteed by Acea, throughout its passage, with a view to complying with the regulatory standards provided for end users. Subsequently, the wastewater collection and treatment phase is activated, for the recovery and return of the resource to the environment in the best possible condition, in order for it to resume its natural cycle.

ENERGY SEGMENT: PRODUCTION AND DISTRIBUTION INFRASTRUCTURES
Electricity production and distribution: Acea generates energy mainly at hydroelectric power stations and to a residual extent using combined cycle thermoelectric (gas) plants and photovoltaic facilities. Users receive electricity thanks to the distribution network managed and developed by Acea. The digital and innovative development of services, encouraged and required by an increasingly advanced market, obliges the Distributor to look towards smart city solutions. Alongside this is a resilient network management whereby it is possible to support the future shift and increase in electricity carrier uses.

ENERGY SEGMENT: TRADING AND SALES
Sale of energy and gas: purchase of the commodity (energy and gas) takes place via market trading platforms (Electricity exchange), where retailers such as Acea Energia, according to respective trade policies, source in order to supply their customers.
In Italy, the demand market is divided into two large sectors: one concerning the enhanced protection regime, which to date still characterises the residential market and will be discontinued in 2019, and the free market, where each customer can choose a preferred supplier and related services. Sales companies develop customer relationships, based on typology, via increasingly innovative and digital channels, in any case maintaining traditional tools, such as telephone communications and retail counters.
In order to promote their products, sales companies use sales agencies that are specifically selected, trained and monitored in connection with the trading practices implemented.
ENVIRONMENT SEGMENT: CIRCULAR ECONOMY
Waste recovery and circular economy: the purpose of the environment business segment is the recovery of waste, via conversion to biogas and refuse-derived fuel (RDF) for utilisation in the energy generation process, or through transformation to compost for the agriculture and nursery sectors.
Acea, in particular, from a circular economy perspective, exploits integration in water operations in order to recover sewage sludge and initiate treatment for compost purposes.